Saturday, January 16, 2010,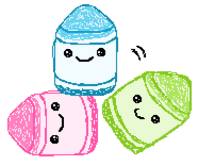 I am
exhausted
! :) Finally; exams are over! Wow, I missed you guys. Sorry if I haven't updated for ages. Quick week recap?
So, last Monday was a total blur. People we're talking nonsense and instead of joining them, I managed to actually stay in a corner and just review for next day's exam. But, as usual, I didn't manage to continue because of all the noise and started searching for a more quiet place. On my way down stairs, one of my best friends-slash-classmate called me to tell me something about one of our fave bands
SS501
, which lead to a very long conversation of how we adore them like crazy, as always. Review sessions are over. Went home and went to the mall with my cousin to shop for some stuff before I actually study and got home by 7. Studied and studied until 11 PM. Those study sessions were just reviews. After posting
I'm one of fifty-five
last Saturday, I started making reviewers and stuff so I wouldn't cram. Boring Monday ae?
The following days (Tuesday-Thursday) we're really tiring. I had to study until 2 o'clock in the morning to ace the test and manage to stay on the honor roll.
Friday was normal. Nothing really new. We went to school but had no classes. Just checked our papers and did a lot of chit-chatting. The practice for our M.A.P.E.H. practicum started yesterday, which by the way, made me more weary.
So thank God it's the weekends! Normally
I HATE SATURDAYS
, but right now, it makes me wish this is forever.
Anyway, I've been bored with this layout and I'm thinking of changing it. What do you guys think? I saw a really nice theme at
Blogskins
. Besides, this theme has disabled the comments section.
1:00 PM